Training & Placement Cell
---
Online Placement Drive for final Semester Students
Constitution of Training & Placement Cell at Govt. Polytechnic College Jammu
Government Polytechnic Jammu established a Training and Placement Cell in the year 2002-2003. The Training and Placement Cell arranges various campus interviews for the candidates of various trades of Diploma Engineering. Since inception, many students of the Institution have been placed in various industries in the State as well as outside the State. The Training and Placement Cell members are responsible for overall arrangement of various placements & campus interviews with in the institution.
With the introduction of UDAAN in year 2010, the youth of Jammu and Kashmir have very bright chances to enhance and grow their careers. UDAAN is a special initiative targeted at connecting the ambitious and progressive youth of Jammu and Kashmir with the best of corporate India. Under the Special Industry Initiative of the Prime Minister, the National Skills Development Corporation (NSDC) and Ministry of Home Affairs have been mandated to work with the corporate sector in bringing about a positive change in the employment and skills space of Jammu and Kashmir. The Special Industry Initiative, known as "UDAAN", targets the youth of J&K, who are seeking global and local opportunities. UDAAN thereby aims to provide skills and consequently employment to 8000 youth from Jammu & Kashmir per annum over a 5 year period (5x8000=40,000) in key high growth sectors. Project UDAAN calls for organizations from across the country to select deserving candidates from the state, provide for training and place them either within their organization or outside or enable them to become entrepreneurs.
The Institute constituted an Industrial training committee (one Lecturer from each branch) for organising the industrial training / visits / Guest lectures for the students of various branches of the institution. The Committee is continuously preparing database of various industries in J&K for training / visits.
There is an official Facebook page for Training and Placement Cell of GovernmentPolytechnic Jammu. Students can submit their e-Resume and can also check any forthcoming Recruitment / Placement drive. Visit our Facebook page here www.facebook.com/PolytechnicPlacementCell.
Members of Training & Placement Cell

S.No.

Name of the Member/
Designation

Department

Contact Details

1

Mr. Rajesh Khajuria
TPO
TP Cell
9419117253
khajuriarajesh6@gmail.com

2

Er. Ajay Thappa Lecturer-I
Mechanical Engineering
9419145891 ajay_5805@yahoo.co.in

3

Er. Sakshi Kaphai
Lecturer-I
Instru.& Control Engineering
9086001212
sakshi.kapahi7@gmail.com

4

Er. P.K.Angral
Lecturer-I
Electrical Engineering
9797673453 pk3nitsri@gmail.com

5

Subash Chander
Civil Engg.
9469225326
subash17aug@gmail.com

6

Jasdeep kour
Instr. & Control Engg.
9906077333
jasdeep.kour23@gmail.com

7

Shokat Ali
Computer Engg./IT
9419104565
shokat1986@gmail.com

8

Navdeep Sharma
Automobile engg.
9422399701
navdeepsharma535@gmail.com

9

Akash Dusgotra
Civil Engg.
9596868749
dusgotraakash@gmail.com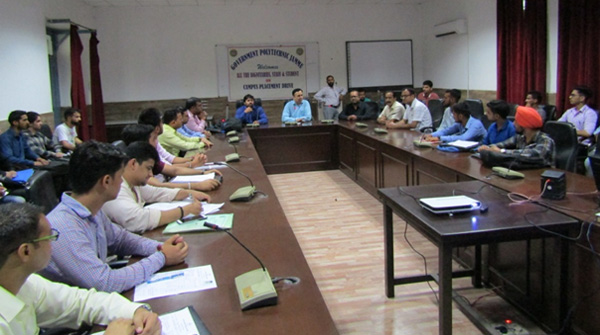 Placement Drive by M/s HMEL Refinery Bathinda
Placement Data
S.No.

Department

15-16

16-17

17-18

18-19

19-20

20-21

1

Architecture Assistanship

NIL

05

04

08

02

03

2

Automobile Engineering

12

11

05

10

06

08

3

Mechanical Engineering

23

41

21

42

30

48

4

Information Technology

NIL

NIL

NIL

NIL

NIL

Nil

5

Computer Engineering

12

16

32

14

16

20

6

Civil Engineering

31

19

18

20

22

18

7

Instrumental And Control

04

03

02

02

01

02

8

Electrical Engginering

23

17

17

29

22

34

9

Travel And Tourism

07

04

02

08

02

05

TOTAL

112

116

101

133

101

138
The students so far have been placed in various Corporates/
Organisations for the last five years

S#
Name of the Corporate
S#
Name of the Corporate
1
Escorts Agri Machinery, Gurgaon
28
Experis IT
2
Caparo Maruti Ltd Delhi
29
Oerlikon Graziano
3
Tata motors Ltd.
30
Access Health Care
4
Uflex Ltd
31
JTEKT Sona Automotive India Ltd.
5
Patel Engg. Service
32
Ani instruments Pvt. Ltd.Mumbai ,India
6
A D S Softek Pvt. Ltd
33
Koyo Bearing
7
Apollo Med skills
34
Future Generali India Insurance Co. Ltd New Delhi
8
CIPET
35
Unique solution
9
Experis IT
36
Edu apps software Pvt. Ltd
10
Gumbi software
37
Bharti Infratel Ltd.
11
IIFL
38
Kandhari Beverages India Ltd
12
IL&FS
39
Shahi Exports
13
KPMG
40
HMEL refinery Bathinda
14
Ligare
41
Krishna Maruti group
15
MBD group
42
Fortune Inn Riviera, Jammu
16
Mitcon
43
Sonalika Tractors, Hashiarpur, Punjab
17
Mount Talent Consulting
44
Reliance Jio
18
Multicare services India Ltd.
45
Info security system/ Trakbox Telematics
19
OerlikonGraziano
46
LG Electronics
20
Rooman Tech.
47
Mudrakshi Hytex Pvt. Ltd.
21
S.E- Biz
48
Maruti Suzuki India Ltd.
23
Safexpress
49
Prime pack Industries, Samba
22
Sahaj e village
50
Impinge solutions
24
VISPL
51
Travo care world wide service pvt. Ltd.
25
Sud Pines , Baribrahamana, Jammu
52
Saraswati plastotech Baribrahamana, Jammu
26
Singla Cables,Baribrahamana, Jammu
53
Shree cement Ltd.
27
Vision India Pvt. Ltd
54
Shree Toyota ltd., Jammu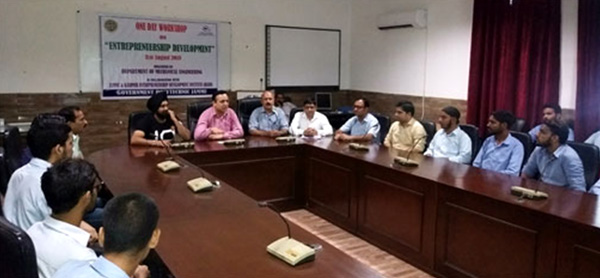 A one-day workshop on Entrepreneurship Development was organized by Government Polytechnic Jammu in collaboration with Jammu and Kashmir Entrepreneurship development institute (JKEDI)
Training and Placement Officer Sh. Rajesh Khajuria
Placement drive by Mudrakshi Hytech India ltd.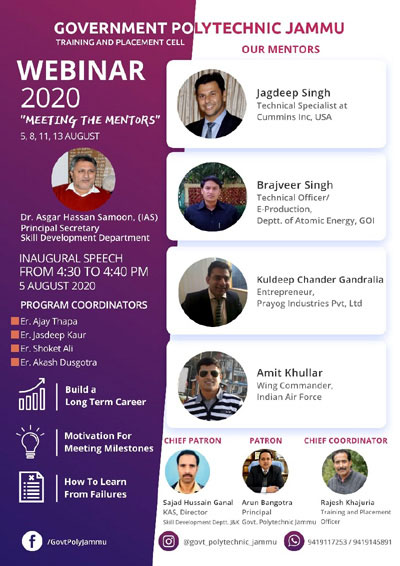 Webinar Series 2020- Meeting The Mentors Conducted at
Government Polytechnic Jammu.
Four successful online sessions were conducted on
Google Meet Platform and facilitating
parallel live YouTube streaming.
Placement Records for the Last Five Years

Session

Placements including self employed

2015-16

205

2016-17

185

2017-18

225

2018-19

180

2019-20

105