Two Day TECHNOVATION 2018 concludes at Government Polytechnic, Jammu
Government Polytechnic Jammu lifts the overall trophy of TECHNOVATION 2018
TECHNOVATION 2018, a Mega state wide technical festival concluded at Government Polytechnic, Jammu. The two-day Technical festival which was organised for the 1st time in the history of Technical Education department by Government Polytechnic Jammu and partnered with CT Group of Institutions, Jalandhar. On the concluding day of Valediction and Prize distribution of TECHNOVATION 2018, the Chief Guest for the occasion was Jenab Molvi Imran Raza Ansari, Hon'ble Minister for Technical Education YSS & IT and Sh. Kavinder Gupta, Honble Speaker J&K Legislative Assembly who distributed the prizes to the winning teams.
While speaking on the occasion the Jenab Molvi Imran Raza Ansari, Minister of Technical Education congratulated Govt. Polytechnic Jammu for organizing Technical event for the first time in history of Technical Education and said this event was a great learning platform for young innovators. He further stressed that such type of events showcase the technical skills of students where a lot of new ideas are seen live and encouraged the students to patent there innovations. Sh. Kavinder Gupta, Speaker J&K Legislative Assembly motivated the students to work in the field of Technical education and bring new ideas and innovations in the field of Technology and help the society groom for a better tomorrow and said such events bring out enthusiasm of the youth towards futuristic technologies.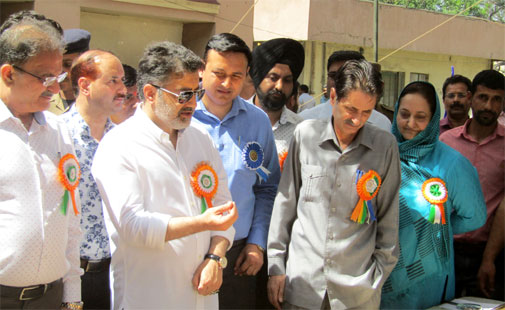 Jb. Hilal Ahmed Parray (IAS), Commissioner Secretary to Govt., Technical Education & YSS Department welcomed the Guests and all the dignitaries and said that this two days event have provided an opportunity and platform to all young innovative minds and congratulated all the winners of various events held in these two days.
Madam Shabnam Shah Kamli (KAS) Director Technical Education, J&K congratulated the Principal of Govt. Polytechnic Jammu and his team for successfully organizing the event and said that the objective of the event is to guide the young engineers to innovations and startups.
Er Arun Bangotra, Principal of the Government Polytechnic Jammu congratulated all the students and advised them to stay focused and achieve greater heights and thanked all the distinguished guest for gracing the occasion with their presence.
During the two days event various Competitions and activities like Code War, Website Designing, Electronic Circuit Making, Mechanical Assembly, Project Demonstration, Quiz, Tech Show, Tech play, CAD Mania, Technical presentation and so forth were organised in which students of various Polytechnics of Jammu division were participated. In these events more than 215 students from various Government & Private Polytechnics of J&K participated.
The Technical Presentation event was won by Ms Ayushi Gupta of Govt Polytechnic Jammu, Mechanical Assembly event was won by Gurmeet Singh, Mukul, Zeeshan Reyaz and Abhay Thakur from Government Polytechnic Jammu. Tech show event was won by Nishu, Zahoor, Azad and his team from Government Polytechnic Reasi, Assemblage of Electronic circuit event was won by Ayush, Komal and Sandeep from NITS Polytechnic, Code war event was won by Shivam Dhar of Government Polytechnic Jammu. Tarandeep Singh of NITS Polytechnic won Logo Designing event. The quiz was won by Dishvijay, Shivam and Akhil from Government Polytechnic Jammu. Project Demonstration was won by Tamheed Ahmed, Manjeet, Imran & Piyush for their project "Electric Bicycle". CAD Mania was won by Salum of Government Polytechnic Jammu while Design-e India was won by Dinansh and his team from Government Polytechnic Jammu.
The overall trophy was bagged by the students of Government Polytechnic Jammu.
Er Jasdeep Kaur, Lecturer I&C conducted the proceedings of the programme. Others present were Er Mohd Shafi Bhat, Joint Director Technical Education J&K, Er Mehmood Ahmed Secretary State Board of Technical Education, Mr. Abhishekh Soni and Dr. GS Kalra from CT Group of Institutions, Staff of Directorate of Technical Education, Er Inderjeet Singh, Er Kuldeep Bhatia, and all HODs, Staff and students of Government and Private Polytechnic of Jammu Division.