The department of Tourism & Hospitality Management was established under the World Bank aided Project Tech Ed III in the year 2004.It was formerly known as Department of Travel & Tourism. The department offers a three year diploma in Tourism & Hospitality Management. The intake of the department is 45 students. The students are admitted through common entrance test conducted by board of professional entrance examination.
The department has been imparting quality Tourism Education and is grooming students in all facets of Creative Learning, Technical Competency; Character building and Overall Personality Development. Well qualified, young and experienced faculty members is the forte of this Department.
Aim - The aim of the department is to provide quality education to the youngsters so that they can contribute in the development of the nation. We not only aim on theoretical knowledge but also provide the students, exposure to the developing society so that they can build their future in a better way.
Mission - Imparting knowledge base and skill sets in the fields of tourism and its associated industries by providing learning ambience for academics & research leading to global competence.
Vision
To produce competent professionals capable of working in a wide range of tourism organisations.
To excel in providing quality tourism education.
To enhance the experience through industry- department interaction programs, leading to better awareness, interaction and employability.
To encourage and support creative and innovative projects & activities, to become industry-ready or pursue higher studies of their choice.
To contribute towards the betterment of society through workshops by imparting practical skills to unemployed youth for better employability.
All the major sectors & organizations in tourism industry require people to make the various processes work & to make broad range of activities & experiences available to tourists. It is these experiences that are the tourism product. The people in the tourism industry who provide these experiences must perform a vast number of organizational functions. These functions range from relatively simple jobs to highly sophisticated & demanding tasks. Tourism industry is often characterized by the large number of frontline service jobs that must be performed for tourism to function effectively. For example, the accommodation sector requires front desk staff. The attraction sector requires facilitation & equipment operators. The adventure & outdoor recreation sector needs guides & group leaders. Travel Agency must have the personnel to assist travelers as they plan trips, and then to meet their many needs for information & assistance throughout their travel experiences. As can be summarized, the performance of many tasks identified above requires many individuals who are trained to perform each specialized task in an effective and friendly manner. Tourism is a labour intensive industry and attracts extremely large number of highly attractive career options that requires sophisticated, technical &/or managerial training. The competition due to globalization has resulted in highly professional man power in all sectors of tourism industry. The demand for professionals is increasing day by day. To face these challenges, competent tourism professionals are required. Technical education system is one of the significant components of the human resource development and has grown phenomenally during all these years. It is right time to infuse quality aspect by developing trained and competent workforce that can cater to the requirements of world of work. The department of Tourism & Hospitality is striving towards this endeavour.
Abstract of Curriculum Areas
1. English and Communication Skills
2. Geography of Tourism
3. Introduction to Travel and Tourism
4. Hospitality Services
5. Basics of Information Technology
6. Personality Development
7. Contemporary India
8. Communication Aids in Tourism
9. Tourism Infrastructure
10. Tourism Organizations
11. Tourism Statistics and Market Research
12. Airline Tariffs and Ticketing
13. Shopping and Entertainment
14. Languages
15. Minor Project Work
16. Tourism Planning
17. Tourism Impacts
18. Generic Skills and Entrepreneurship Development
19. Tourism and Hospitality Marketing
20. Sustainable Tourism Development
21. Peace Tourism
22. Automation in Travel and Tourism Industry
23. Travel Agency and Tour Operations
24. Basics of Management
25. Major Project Work
26. Electives:

(a) MICE
(b) Public Relations Management
(c) Heritage Tourism
(d) Tourism in Jammu and Kashmir
Laboratories in Tourism & Hospitality Management Department
Audio-Visual Laboratory
| | | |
| --- | --- | --- |
| Sr. | Particulars | Quantity |
| 1 | LCD Projectors | 01 |
| 2 | OH Projectors | 01 |
| 3 | Handy Cam | 01 |
| 4 | Digital Still Camera | 01 |
| 5 | Mobile Phone | 02 |
| 6 | Intercom Trainer Kit | 01 |
| 7 | EPABX Trainer Kit | 01 |
| 8 | 29" Colour Television | 01 |
| 9 | DVD Players | 01 |
| 10 | Music System | 01 |
| 11 | Screen | 01 |
| 12 | Slide Projectors | 01 |
Computer Laboratory
| | | |
| --- | --- | --- |
| Sr. | Particulars | Quantity |
| 1 | Personal Computer with Accessories | 20 |
| 2 | Colour Photocopier | 01 |
| 3 | Fax | 01 |
| 4 | CRS Software for Airlines and Hotels Amadeus | 01 |
Formal & Non-formal Courses offered by the department
A. Formal Courses - The department mainly offers a diploma programme in Tourism & Hospitality Management. The duration of the programme is three years.
B. Non-formal Courses
I) Tourist Guide 3 months
2) Language (French) 3 Months
3) Computerised Reservation System (CRS) 3 Months

Staff of Travel & Tourism Department
Staff profile of the department
Sr.

Name
Designation
Qualification

1

Amit Kumar Sharma
Lecturer-I /
InchargeDeptt
B. Sc; M.T.A

2

Dheeraj Kumar
Lecturer
B.A; M.T.M

3

GaganPratap Singh
Lecturer (AA)
B.H.M; M.T.M

4

Pooja Gupta
Lecturer (A/A)
Dip. / BTS / MTM / B.Ed

5

Renuka Devi
Lecturer (A/A)
Dip. / BTS / MTM

6

Mukhtar Begum
Lab Assistant
12th

7

Rakesh Kumar
Orderly
Middle Pass

Employment Opportunities for Diploma Holders in
Tourism and Hospitality Management
Tourism is one among the world's largest industries even though there is a huge scope for tourism; there are only a few institutions in India offering professional education in tourism. Tourism professionals can get employment with
• Airlines
• Travel agencies
• Tour operators
• Hotels/Guest Houses
• Embassies
• State Tourism Departments and Corporations/ITDC
• Railways
• Shrine Boards
• Cruises
• Call Centres
• Adventure and Mountaineering Training Institutes
• Academics
• Retailing
• Roadways – Car Rentals
• Travel Media
• Youth Hostels
• Tour Guides
• Facilities Management
• Event Management
A diploma holder in Tourism and Hospitality Management can be placed in the departments such as ticketing operation, tour operations, marketing, hotels and restaurants, liasoning and communications in large travel agencies or airlines. These diploma holders can also set up their own travel agencies, hotels, work as independent tour guides or as Event Managers/MICE (Meetings, Incentives, Conferences and Expositions), Operators etc.
Achievements of the Department - Our alumni are placed in some of the most reputed tourism & hospitality organizations in India. Some of our students are working with Taj Group of Hotels, Make My Trip .com, Hotel Seventeen miles, White Hotel Katra, back office of Indian Airlines, Cox n Kings, Thomas Cook, and some other leading Travel agencies in Delhi. Some of our students have started their own entrepreneurial ventures like travel agencies, car rentals, adventure tourism facilitation etc.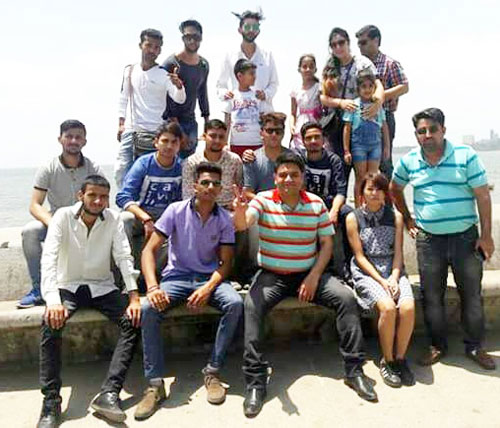 Educational Tour of Travel & Tourism Department from Mumbai to Goa May-2017