Workshop on Entrepreneurship Development held at Govt. Polytechnic Jammu in collaboration with JKEDI Jammu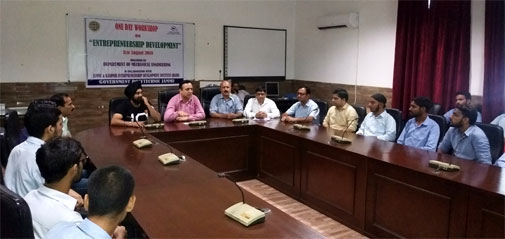 A one-day workshop on Entrepreneurship Development was organized by Government Polytechnic Jammu in collaboration with Jammu and Kashmir Entrepreneurship development institute (JKEDI). The workshop was inaugurated by Er. Arun Bangotra, Principal Govt. Polytechnic Jammu, who in his welcome address highlighted the relevance of the topic and impressed upon students to be focused for achieving their goals and attaining success in their life and motivated the students to become job provider rather than job seekers and briefed the students about the traits to be developed for becoming successful entrepreneur viz. Leadership, moderate risk takers and management skills. The resource person from JKEDI were Mr. Syed Firdous Bukhari, Incharge Training, JKEDI and Dr. Vinod Kumar Sharma, Senior Faculty, JKEDI who gave lecture to final year students of Mechanical Engineering Department about the scope of entrepreneur, various schemes of state and center regarding entrepreneurship and motivated the students to become successful entrepreneur. Mr. Bukhari in his molded the students towards private jobs as compared to Government jobs. The programme was attended by the faculty and final year's students of Mechanical Engineering departments of Govt. Polytechnic Jammu.
The various Speakers from JKEDI explain the importance of becoming Entrepreneur for social and economic development of the nation. They give information to the students regarding various loan scheme, eligibility and subsidy they provide to the person who want to become entrepreneur. Audience keenly listen to the speakers and at the end of the programme students interacted with the experts related to their queries.
After the whole session all the students were full of energy and enthusiasm. The event ended with high motivation and inspiration among the students. Students demanded for such more sessions in near future. The program was organized by K S Bhatia, HoD Mechanical Engineering, Ajay Thapa and Sanam Gupta, Lecturer of Mechanical Engineering Department. Other present were Sh. Rajesh Khajuria, Training and Placement Officer, Mohd Shabir and staff and students.