Two days Expert Lecture series on "Cloud Computing and VANET" Concludes at Govt. Polytechnic College Jammu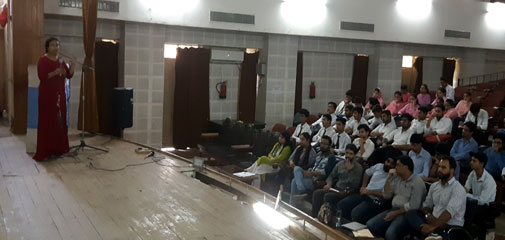 Dr. Pooja Sharma, Assistant Professor, School of Computer science and Engineering, delivered a special invited lecture as a part of two day extension lecture series w.e.f. 19th September to 20th September 2018 at Govt. Polytechnic Jammu (J&K). The expert enlighten the audience about latest technologies like cloud computing and Vehicular cloud networks which were quite useful for students also. Er. Arun Bangotra, Principal, Govt. Polytechnic Jammu, greeted the speaker by his welcome note. He emphasized the importance of such extension lectures as very crucial for all round development of students and making them aware of new technologies apart from standard course curriculum and called special lectures as a great platform for exchange of ideas. He also encncourages to organize such events that would update the students and the faculty of the college with current technological resources. He also focuses on the building of relations between the academic institutions by doing such of events.
All the faculty members and students of Department of Computer science and Engineering were present in the session. The session was very interesting and interactive. Students had enriching experience through the interaction of the speaker while getting updated with latest technologies. The expert enlightened students with her valuable knowledge and experience. The speaker gave a talk starting from the fundamentals to new upcoming technologies and innovations. Her research areas include wireless adhoc networks, MANETs and VANETs. She has presented various research papers at reputed International conferences at India and abroad. Er. Inderjeet Singh Vice Principal of the institute also spoke on the transformation of technology which is the need of the hour. In the end, Er. Zia ul Haq Kohli, Head of Department, Department of Computer Science and Engineering presented vote of thanks and mentioned the importance of such special lectures as great enriching experience for students and faculty.