Govt. Polytechnic Jammu organized One day Hand on Workshop on
"Cyber Security and Ethical Hacking"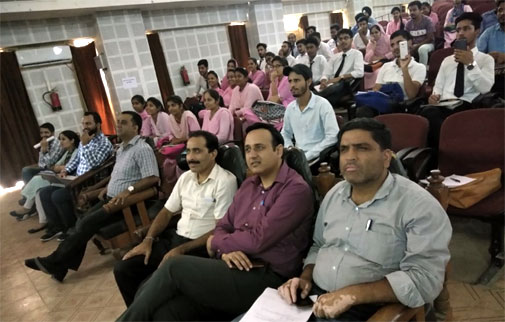 The department of Computer engineering & IT of Govt Polytechnic Jammu in collaboration with Jetking Jammu Centre organized one day Hand on Workshop on "Cyber Security and Ethical Hacking" for the students and faculty of computer engineering. The resource personal Mr. Dhirender Singh CCNA certified engineer fromJetKing Centre U.P. elaborated about the ethical hacking that how an information security expert systematically attempts to penetrate the computer system, network, application or other computing resource, on behalf of its owners or with their permission find security vulnerabilities that a malicious hacker could potentially exploit.The expert physically showed an interactive way to hack a mailing system with different cell phone devices of students. The expert also discussed cyber security as a protection of internet connecting systems including hardware, software and data from cyber attacks both at physical level. The expert also emphasized how to protect oneself against unauthorized access to data centers and other computerized systems.
Er. Arun Bangotra, Principal, Govt. Polytechnic Jammu, greeted the speakers by his welcome note. He emphasized the importance of such hand on workshops as very crucial for all round development of students and making them aware of new technologies apart from standard course curriculum and called these workshops as a great platform for exchange of ideas. He also encouraged to organize such events that would update the students and the faculty of the college with current technological resources. He also focuses on the building of relations between the academic institutions by doing such kind of events.
All the faculty members and students of Department of Computer Engineering& IT were present in the day long interactive workshop. The sessions were very interesting and interactive. Students had enriching experience through the interaction of the speaker while getting updated with latest technologies. The expert enlightened students with their valuable knowledge and experience. The speaker gave a talk starting from the fundamentals to new upcoming technologies and innovations.TheinchargeJetKing Centre JammuEr. Naveen Sharma also spoke on the occasionwith a vision, how to become an entrepreneur and Miss Priya Raina placement officer TPO of jetking centre jammu also gave a detailed presentation on personality development and how to appear before an interviewer. Er. Inderjeet Singh Vice Principal of the institute also spoke on the transformation of technology which is the need of the hour. In the end, Er. Zia ul Haq Kohli, Head of Department, Department of Computer Engineering & IT presented vote of thanks and mentioned the importance of ethical hacking and cyber security is a key tool of computer system, network, and application to maintain the confidentiality, integrity and security of data. The proceeding of the workshop was carried by Mr. Aejaz Farooq Ganie, faculty (Department of Computer Engineer & I.T., Govt. Polytechnic Jammu) who briefly enlightened about the real essence of Ethical hacking and cyber security.