Automobile Engineering Department Lifts
4th Fazil Abbas Rolling Trophy Volley Ball Tournament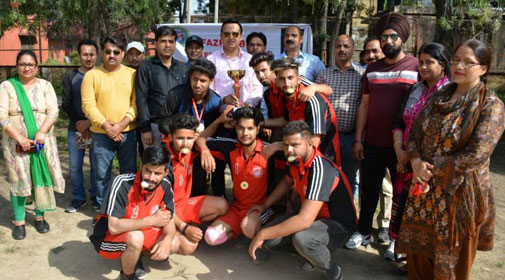 During the nail biting final match, Spiker Mr. Neeraj Sharma from Automobile Engineering Department led from the front with his dominating performance and smashed Electrical Engineering Department by 3-0 sets to lift the 4th Fazil Abbas Volleyball Rolling Trophy Finals here in Govt. Polytechnic Bikram Chowk Jammu. The tournament which commence on the 29.03.2019 in which overall 60 student players from Six departments of this institution participated. The first set was nail biter. Both teams played superb Volleyball. In the second set Electrical Engineering department gave a good fight but the third set was easily won by the Automobile Engineering department. Though Electrical Engineering department dished-out a clinical performance with both blocks and smashed, Mr. Kuljeet Singh and Mr. Neeraj Sharma of Automobile Engineering department wreaked havoc on the hopes of opponents, raising the temperature of the crowd who were enjoying every moment of the final. Faculty of both the departments remained with crossed fingers till the decider points. The final score was 29-27, 25-17 & 25-08. The tournament was played on the name of Brilliant student of the college Late Mr. Fazil Abbas, 4th semester student of Architecture Department who passed away on 4th of May 2015. On the valedictory function, Er Arun Bangotra, Principal of the institute was the Chief Guest. While speaking on the occasion, Er. Arun Bangotra laid stress on the importance of sports activities and encouraged the students to participate in sports activities which develop the quality of leadership, sense of responsibility and create the feeling of oneness by working together. Later on trophies medals and prizes were distributed among the winners, runner-ups, officials and volunteers.
The officials for Finals were Sh Jeet Singh, P.E.M, Sh. Pritam Sharma, P.E.M, Sh. Jagjeet Singh, P.E.T and Sh Amit Sharma, P.E.T from Youth Services and Sports Department of J&K.
The Tournament was organised under the overall supervision of Er Rajesh Gupta, HOD (Automobile), Er.Sukhdeep Singh HOD Civil Engg, Sh Dheeraj Angral Lecture T&T, Ms. Guminderpreet Kour P.E.M and Mrs. Toshi Devi, P.E.T of Sports Department of Govt. Polytechnic Jammu. Others who were present on the occasion were Sh. K.S Bhatia HOD (Mechanical), Mr. Amit Sharma HOD (Travel and Tourism), Er. Sanjay Gupta HOD (Electrical), Ar. Ritika Wadhera, HOD (Arch), Sh Rajesh Khajuria, TPO, Er. Ankush Langer, Er. Navdeep Sharma, Er. Vandana Chib, family of Late Fazil Abbas other staff and students of the college.