Students of Government Polytechnic Jammu Fabricated Electric Bike and All Terrain Bike
The students of Automobile Engineering Department of Government Polytechnic Bikram Chowk Jammu has developed Electric Bike and All Terrain Bike (ATV) as a part of projects in their final semester which are new and future technologies.
Er Arun Bangotra, Principal of the college congratulated the students and the staff members involved in the two innovative projects.
The students converted the Hero Pulsar 100 cc bike into Electric Bike by replacing the engine of the Bike with BSSLW 48 V 750 Watt D.C Motor. An electric control is used to control the speed of the motor and Four batteries are used to run the motor. The length of the chain was increased and the frame and steering of the vehicle was altered accordingly. The seat of the vehicle was modified to take load upto 300 Kg. The wiring system was completely changed with new head lamps and indicators fitted. The batteries will provide a backup of 60 Km after full charge and can be charged by digital chargers within two hours. The bike is environmentally friendly with zero emission and no noise pollution. The travelling expenses are cheaper as compared with the available bikes of the same power.
The students also converted 180 cc Pulsar bike into All Terrain Vehicle (ATV). Two wheels were replaced by four wheels with the help of additional axles and single steering wheel was converted into two front wheel steering. The mechanical brakes were converted into two hydraulic brakes with the installation of master cylinder, wheel cylinder and brake lines. The features of ATV are they can travel on low tyre pressure, easy to balance, easier and comfortable steering control and can run on rough and terrain roads.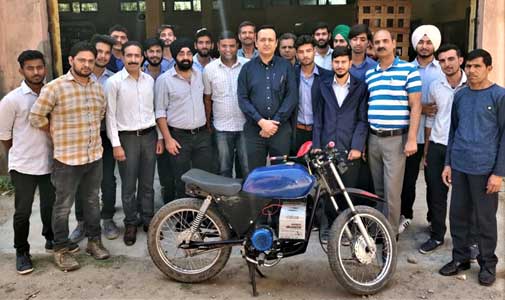 The two innovative Bikes are prepared by the students of final year of Automobile Engineering namely Mikul Sharma, Suraj Parkash Verma, Ravi Kumar, Nischal Zutshi, Zubair Rashid Lone, Vishal Kotwal, Parshant Singh Baghal and Zeeshan Reyaz. They took three months to complete the project and the design of the bikes are totally different from other bikes. They were ably guided by the HOD Sh. Rajesh Gupta and faculty members of the Automobile Engineering Department Sh. Navdeep Sharma, Sh Ajay Dogra, Er Atul Kodhi Sh. Surjeet Phounsa, Purshottam Lal and Sh Vinod Kumar.