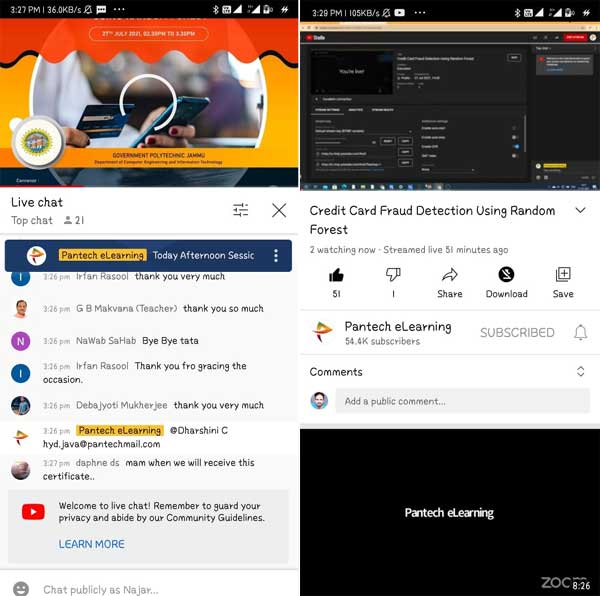 Department of computer Engineering and IT Government Polytechnic College Jammu in Collaboration with Pantech e-learning Pune organized a webinar on Credit card fraud detection using random forest on 27th of July 2021. Nearly 50+ students and Faculty Members participated in the session. Ms. Divyanjali was the guest speaker of the session. During the session Ms. Divyanjali discussed how to detect fraud in credit card transactions using random forest.

The main focus of the session was the analysis of credit card fraud. The tremendous increase in credit card dealings and proceedings in recent years has led to a significant increase in fraud. The main drawback in the credit card usage is that it does not require the card holder to authorize the transaction, so it is hard to find whether the transaction is genuine or not. Many machine learning algorithms can be used to analyze the credit card fraud, the session was focused mainly on the Random Forest algorithm because of its advantages like higher dimensionality and accuracy. It is capable to solve both classification and regression issues.

So, we can acquire the result of an accurate value of credit card fraud detection i.e. 0.9994802867383512 (99.93%) using a random forest algorithm with new enhancements. In comparison to existing modules, this proposed module is applicable for the larger dataset and provides more accurate results. The Random forest algorithm will provide better performance with many training data, but speed during testing and application will still suffer. Usage of more pre-processing techniques would also assist.

Our future work will try to represent this into a software application and provide a solution for credit card fraud using the new technologies like Machine Learning, Artificial Intelligence and Deep Learning.

Er. Ritu Jamwal Principal, Govt. Polytechnic College Jammu, greeted the speaker by her welcome note. She emphasized the importance of such online webinars as very crucial for all round development of students and making them aware of new technologies apart from standard course curriculum and called these as a great platform for exchange of ideas especially when country is under Pandamic due to COVID-19. She also encncouraged to organize such events that would update the students and the faculty of the college with current technological resources so that time should not be wasted under the prevailing circumstances. She also focuses on the building of relations between the academic institutions by doing such events.

The session was very interesting and interactive. Students had enriching experience through the interaction of the speakers while getting updated with latest credit card technologies and its future scope. Er. Zia Ul Haq Kohli HoD Computer Engineering & IT of the host institute also spoke on the transformation of technology and with deep and machine learning, AI can become smarter over time, thus increasing a business efficiency, which is the need of the hour and mentioned the importance of such online Workshops as great enriching experience for students and faculty.