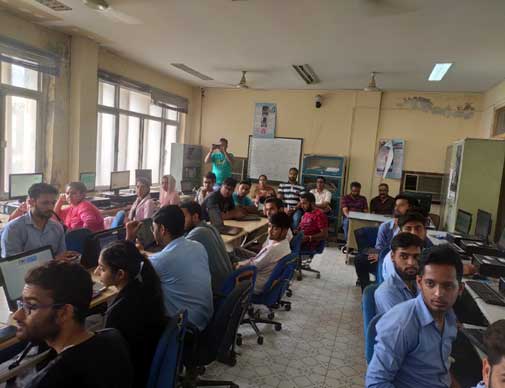 The ML Facilitator By Google , in collaboration with Chapter Lead J&K by Girlscript Jammu had conducted one day workshop on "Website Development using HTML and JAVA" for the students of Degree/Diploma computer Engineering of Engineering Colleges of Jammu and Kashmir on 14-09-2019 at Dept. of Computer Engineering, Govt. Polytechnic Jammu. Chapter Lead J&K by Girlscript Jammu, student chapter is a non-profit organization, that is taking initiative to make the students of jammu and Kashmir to get connected to the technical world. The organization had a team of 7 students that organized the workshop successfully in the college. The team included Mohit Sharma (chapter Lead), Kushagar Mahajan(data analyst), Tushar Naagar(Project Manager), Deepanshu chajgotra(Social Medical head), Avinash Koshal(Technical Team), Rohini Sharma(Operational Head) and Arsalaan ahmad Alyas(onsite management team). The workshop was organized in association with IT based company "Progate", sponsored by Mediblog Healthcare. The expert enlightened the students about basic Website designing using HTML and Java Script. Hands-on session on design of HTML and CSS sheets were implemented in the Workshop. The linking of WebPages, adding images into Web pages and webpage designing were also covered in the workshop.The students were also presented with gifts for asking queries related to workshop, to make the workshop interactive The Expert also focused that how Designing of Website can increase a student's future in industry sector. All these should be helpful and quite useful for the world.

Er. Arun Bangotra, Principal, Govt. Polytechnic Jammu, greeted the speaker by his welcome note. He emphasized the importance of such workshops as very crucial for all round development of students and making them aware of new technologies apart from standard course curriculum and called such Handy Workshops as a great platform for exchange of ideas. He also encncourages to organize such events that would update the students and the faculty of the college with current technological resources. He also focuses on the building of relations between the academic institutions by doing such events.

All the faculty members and students of Department of Computer Engineering & IT were present in the session. The session was very interesting and interactive. Students had enriching experience through the interaction of the speakers while getting updated with latest Web Designing Technologies. The expert enlightened students with his valuable knowledge and experience. The speaker gave a talk starting from the fundamentals to new upcoming technologies and innovations. The Workshop was organized under the coordination of Er. Aejaz Farooq, faculty Computer Engineering, Govt. Polytechnic Jammu. In the end, Er. Zia ul Haq Kohli, Head of Department, Department of Computer Science and Engineering presented vote of thanks and mentioned the importance of such Handy Workshops as great enriching experience for students and faculty.