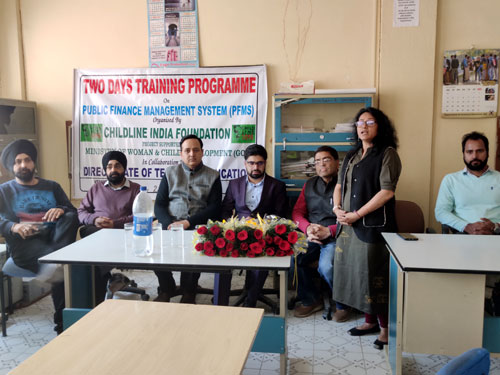 A two-Day training program regarding Public Fund Management System (PMFS) was organized in the Department of Computer Engineering, Govt. Polytechnic Jammu on 17th and 18th February 2020 in collaboration with Ministry of Women and Child development, Govt. of India. The Program was inaugurated by Er. Shakeel Maqbool Yatoo (IAS), Assistant Controller General of Accounts and Nodal Officer PFMS J&K, He threw light on the importance of PFMS and the transparency in public accounts that is aimed to be achieved through this program. He also focussed on efforts that are to be taken for conduction and training of PFMS and thanked the Technical Education department for supporting ChildLine India Foundation to conduct this program. Ms Manjari, Sr. Program Coordinator Child India Foundation, delivered an inauguration session about the introduction of Child India Foundation. She briefed that Child Line India Foundation is a nodal agency of Ministry of Women and Child development, Govt. of India for implementing Childline Projects all over India. In J&K, the foundation has 14 functional units working for the welfare of children.

Er. Arun Bangotra, Principal, Govt. Polytechnic Jammu on the inauguration of the workshop greeted the audience from Technical education department & Child Development Department by his welcome note. He emphasized the importance of such workshops as very crucial for all round development of society and making them aware of CHILDLINE India foundation which is Indias first 24-hour emergency outreach service for children in need of care and protection. He also focused that Globally, no other non-profit childrens helpline provides such outreach services. Its significance lies in immediate response to the children in distress followed by their long term rehabilitation.

On first day of the workshop, the resource persons Mr Haseeb Lone , Mr. Kuldeep Kumar and Mr. Viney Dhar enlightened the audience about the PFMS portal registration and online transaction of Govt funds for NGOs. In the second session, the practical implementation of following functional units is held i) EAT modules iii) Agency Registration iv) Vendor Creation v) Opening balance vi) Expenditure Advance and Transfer.

On second day of the workshop the resource person Mr. Jameel Jeelani , Operation Manager PMFS, enlighten the audience about DBT Module, Bulk Customization, Beneficiary Add, Initiate Payments, Print Payment Advice, Activate Bank Account Number for E- Payment and Upload Beneficiary Data.

the Principals, ITI Superintendents, faculty, officials from Child India Foundation, and employees from accounts department of Govt Polytechnic Jammu and students were present in the session. The session was very interesting and interactive. Officers, faculty, Students had enriching experience through the interaction of the speaker while getting updated with latest PFMS Schemes. The expert enlightened Audience with his valuable knowledge and experience.

In the end, Er. Zia ul Haq Kohli, Head of Department, Department of Computer Engineering & IT had stressed the audience that PFMS is a web based application and is an online management information and decision support system for the plan schemes of the government of India. The purpose of this system is to track and monitor fund disbursement and utilization under Plan Schemes on real time basis. On the conclusion of the workshop, Er. Aejaz Farooq , Faculty Computer Engineering Department also presented vote of thanks and mentioned the importance of such workshops as great enriching experience for public and NGOs. HE also , had conducted the proceedings of the training Program.