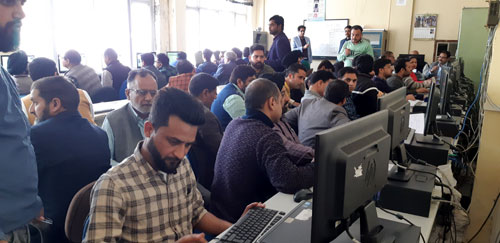 Department of PHE/Irrigation and Flood Control, J&K today (02.03.2020) organised a day long workshop on Public Financial Management System (PFMS) at Government Polytechnic College Jammu in collaboration with Ministry of Jal Shakti Government of India. The workshop was inaugurated by Sh. Ajeet Kumar Sahu (IAS) Commissioner Secretary of the PHE, I&FC department. He added that PFMS is a platform for e-payment of subsidy under Direct Benefit Transfer (DBT) to both Aadhar based & Non- Aadhar based bank accounts through NPCI. Recently, PNB has implemented DBT payments through PFMS for the beneficiaries covered under the scheme.

The training session was conducted by Consultant Tikeshwar Singh from Ministry of Jal Shakti and State Directorate of PFMS Jammu. The objective of the workshop was to train the Engineers of the PHE Department for online payment system through PFMS portal in the implementation of Jal Jeeven Mission (JJM) in the UT of JK /Ladakh. During the course of the workshop, the participants were given hands on training on various modules of the PFMS like Agency registration/ mapping, payments. Besides, end to end fund flow mechanism under the Mission was explained in detail. Participants were apprised that the entire fund flow and payment regime under Jal Jeevan Mission will be through PFMS with a view to incorporate transparency, accountability, fiscal discipline in financial transactions and to enable real time monitoring of disbursements and utilization of funds under JJM.. The PFMS also contributes to the work efficiency and provides support system for decision making and ensuring availability and timely release of funds to the implementing agency.

Under the Jal Jeeven Mission, the Government of Jammu and Kashmir will be providing assured supply of minimum 55 litre per capita per day to each of the Rural Households by December, 2021.

Senior Engineers of the Public Health Engineering Department from the Union Territory of J&K and Union Territory of Ladakh participated in the workshop.
In the end, Sh. Pankaj Magotra Additional Secretary of the PHE, I&FC had stressed the audience that PFMS is a web based application and is an online management information and decision support system for the plan schemes of the government of India. The purpose of this system is to track and monitor fund disbursement and utilization under Plan Schemes on real time basis. On the conclusion of the workshop. Er. Arun Bagrotra Principal of the Host Institution presented vote of thanks and mentioned the importance of such workshops as great enriching experience for public and NGO's. Er. Zia UL Haq Kohli HoD Computer Engineering had conducted the proceedings of the workshop as well as presented technical session.